When the application requires a highly reliable, double layer, waterproof toggle switch with an IP-rating, engineers now have a new option to choose from with the unveiling of the Dual Seal Waterproof M Series toggle switch.
The new Dual Seal M toggle switch is the first complete all-in-one waterproof and dustproof toggle from NKK that no longer requires a separate waterproof boot.
Coming in both single pole and double pole configurations, the Dual Seal M toggle switch is suitable for construction machinery, marine applications, transportation equipment, food service and medical applications.
Download Specifications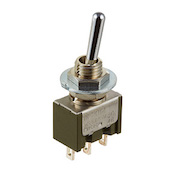 Back
1
2
3
Next
Part No
Series
Rating(A)
Poles
Mounting
Type
Circuits
Illuminated
M2011BB1G01
Toggles M
0.4
SPST
Panel Mount
On-Off
Non-Illuminated
M2011BB1W01
Toggles M
6.0
SPST
Panel Mount
On-Off
Non-Illuminated
M2011BB1W03
Toggles M
6.0
SPST
Panel Mount
On-Off
Non-Illuminated
M2011CS2W13
Toggles M
6.0
SPST
Through Hole
On-Off
Non-Illuminated
M2011CS4G01
Toggles M
0.4
SPST
Panel Mount
On-Off
Non-Illuminated
M2011CS4W01
Toggles M
6.0
SPST
Panel Mount
On-Off
Non-Illuminated
M2011CS4W03
Toggles M
6.0
SPST
Panel Mount
On-Off
Non-Illuminated
M2011DS2W13
Toggles M
6.0
SPST
Through Hole
On-Off
Non-Illuminated
M2011DS4G01
Toggles M
0.4
SPST
Panel Mount
On-Off
Non-Illuminated
M2011DS4W01
Toggles M
6.0
SPST
Panel Mount
On-Off
Non-Illuminated
M2011DS4W03
Toggles M
6.0
SPST
Panel Mount
On-Off
Non-Illuminated
M2011E2S2W13
Toggles M
6.0
SPST
Through Hole
On-Off
Non-Illuminated
M2011E2S4G01
Toggles M
0.4
SPST
Panel Mount
On-Off
Non-Illuminated
M2011E2S4W01
Toggles M
6.0
SPST
Panel Mount
On-Off
Non-Illuminated
M2011E2S4W03
Toggles M
6.0
SPST
Panel Mount
On-Off
Non-Illuminated
M2011ES2W13
Toggles M
6.0
SPST
Through Hole
On-Off
Non-Illuminated
M2011ES4G01
Toggles M
0.4
SPST
Panel Mount
On-Off
Non-Illuminated
M2011ES4W01
Toggles M
6.0
SPST
Panel Mount
On-Off
Non-Illuminated
M2011ES4W03
Toggles M
6.0
SPST
Panel Mount
On-Off
Non-Illuminated
M2011LL2W13
Toggles M
6.0
SPST
Through Hole
On-Off
Non-Illuminated
M2011LL4G01
Toggles M
0.4
SPST
Panel Mount
On-Off
Non-Illuminated
M2011LL4W01
Toggles M
6.0
SPST
Panel Mount
On-Off
Non-Illuminated
M2011LL4W03
Toggles M
6.0
SPST
Panel Mount
On-Off
Non-Illuminated
M2011Q4S2W13
Toggles M
6.0
SPST
Through Hole
On-Off
Non-Illuminated
M2011Q4S4G01
Toggles M
0.4
SPST
Panel Mount
On-Off
Non-Illuminated